At Callaway Security, we provide Chamblee home security monitoring customers with unsurpassed security monitoring. Callaway Security is a family owned business and, for over 30 years, has been considered Atlanta's premier home security monitoring company. Our experienced technicians are licensed and insured for your peace of mind.
If your home has a security system, switching from your existing monitoring service is at no charge. If you want to upgrade or add to your system, our staff can help you decide what would best suit your lifestyle. We use a state-of-the-art U.L.-approved monitoring station that also supports remote access wireless monitoring. We are 5 Diamond Certified by the Central Alarm Association and rank in the top 3% of all monitoring stations that carry this prestigious certification. Suppose you find yourself at risk for or in an emergency. In that case, it only takes seconds for our monitoring system to alert the appropriate emergency responder giving you time to help your loved ones to safety. 
Don't leave your family vulnerable to any emergency; call today to get the protection you deserve. Monitoring rates start for as little as $15.95 for our new customers.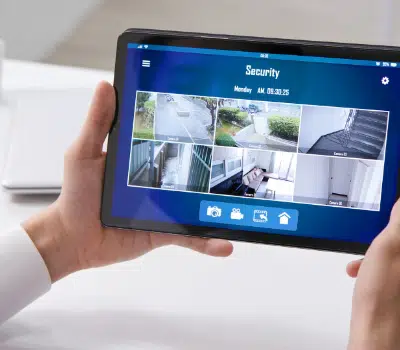 Chamblee GA Home Security Products
Callaway Security can help you be prepared for any home emergency and has an ample supply of quality, affordable home security products in Chamblee, Georgia, designed to give you the best protection possible. Whether you need to expand your system or have a new one installed, we will help you determine what best suits your manner of living. Nanny cameras, motion detectors, motion sensor lighting, open door and window alarms, fire alarms, smoke detectors, carbon monoxide alarms, and personal emergency response items are among the many items to choose from. Let us work for you so that you can relax and focus on the things that you value most in life.
Our expert installers and keep track of smart home security systems in the Chamblee area. Our collaboration with regional law enforcement agencies and the 5 Diamond Certified, industry-leading, monitoring station is how we keep an eye on you in an emergency and safeguard what matters most to you.
Along with home protection, we also provide specialized commercial security systems for a range of establishments in the Chamblee, Georgia region.
We Service & Repair Home Security Systems in Chamblee
With Callaway Security, our goal is to provide prompt, courteous service if a need arises. Our trained technicians are also qualified to service & repair security systems. We specialize in every aspect of our field and work to provide solutions for all of your monitoring needs.
Contact our Chamblee home security specialists today and see why Callaway Security Systems is considered one of Georgia's leading monitoring companies.