What our Customers Are Saying Jonathan Simpson
This is one of the best alarm companies with excellent customer service. He is one of the most honest people when it comes to beginners who do not know what they need and the pricing is excellent compared to bigger companies. Just stopped by to talk about upgrades and received excellent advice in regards to my system. 10/10 recommend this company !! Charles Arnold
What an experience! Finally, a company that understands customer service. Charles was the best! From the sale to the installation of my new alarm system. Charles even called to follow up on the installation to see if I had any issues or had any questions about the system. Wow! Highly recommended!! Mr. Arnold Jackson Vorhees
Blown away. 5-star service from start to finish. I was pleasantly surprised at the professionalism, care, and attention I got from Robert. I was sold from the first minute. So happy to support a local business that truly cares about the well-being of its customers. I RECOMMEND THEM TO EVERYONE!
Home Security System Installation in Canton, GA
Callaway Security has been monitoring home security systems in Canton have known about our service for more than 30 years. Callaway Security is a locally owned business and is considered Georgia's premier home security monitoring company in Canton. 
You don't have to buy a home security system to sign with Callaway Security if your home already has an existing system. We will inspect your current system to ensure it is up to code and ask if you would like any upgrades. You can switch from your existing monitoring service at no charge. We use a state-of-the-art U.L.-approved monitoring station that supports wireless monitoring for remote access from your smartphone or computer. We are 5 Diamond Certified by the Central Alarm Association and rank in the top 3% of all monitoring stations that carry this prestigious certification. Our monitoring system will alert the appropriate emergency responder within seconds of a confirmed alarm giving you time to help your loved ones to safety should an emergency arise. Monitoring rates start for as little as $15.95 for our new customers.
Canton GA Security Products
Callaway Security has an ample supply of quality home security products to keep your unique lifestyle in mind. Whether you need to upgrade your system or install a new one, you can determine what best suits your lifestyle with our many options. Our licensed and insured technicians will install the best equipment, from security cameras, motion detectors, motion sensor lighting, open door/window alarms, fire alarms, smoke detectors, carbon monoxide alarms, personal emergency response pendants, and glass break alarms. Use your iPhone, Android, or Blackberry to access your wireless-supported security system almost anywhere. Don't leave yourself vulnerable to any emergency. With Callaway Security, you can be prepared for any home emergency in Canton so that you can relax and focus on the essential things in life.
Security System Service & Repair
Our technicians are trained to service & repair security systems. We specialize in every aspect of the home security field and strive to have the best customer service for all of your monitoring needs.
Contact our Canton home security specialists today and see why Callaway Security is considered one of Georgia's leading monitoring companies.
Callaway Security leads the home security industry in Canton, Georgia
More than a hundred consumers, including many residents in Canton , depend on Callaway Security as their go-to security and home automation supplier. We offer a number of essential advantages, such as premium hardware, the knowledge of a team that monitors security 24 hours a day, as well as practical and energy-saving devices, to give you the most intelligent house ever. Do smart homes truly provide more than the programmable appliances and devices you already have in your house? Absolutely. All of your home's components are connected by a Callaway Security system, creating a web that truly learns and adjusts to the rhythms of your family. The benefits of Callaway Security's technology include:
Access to Alarm.com Smart Hub: Alarm.com Smart Hub, the intelligence component of Callaway Security's Smart Drive, helps your connected devices fit to your lifestyle while taking proactive measures to reduce your utility costs.
Best-in-Class Components: Compared to the competition, our items are of higher quality and never appear, feel, or function like cheap imitations of metal or plastic.
Rapid Reaction: Our in-house Callaway Security monitoring team's industry-leading response speeds keep you safe and give you peace of mind.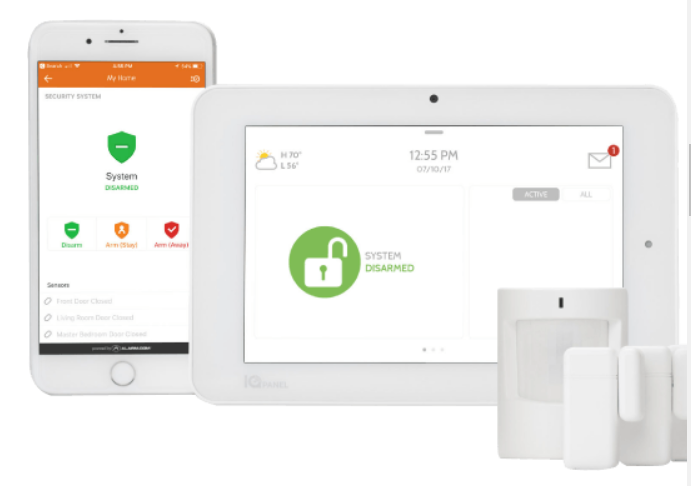 We can create a smart home package that is ideal for you, whether you're searching for an easy method to reduce your energy costs, you want to be able to view and communicate with guests at your front door even when you're not home, or you want to secure your property from intruders in Canton, GA.
Callaway Security installs the most intelligent smart home system in Canton, Georgia
Consider the scenario where you have been waiting all week for a crucial item and it arrives on the day of a tremendous downpour. The package's contents can be damaged if it is left out in the rain all day. You are fortunate to have a Callaway Security alarm system. You receive a notification on the Alarm.com app indicating someone has triggered the motion detection when the UPS driver arrives at your house. You can observe that it is the UPS delivery person holding a package using the doorbell camera. The garage door is opened via the Alarm.com app, enabling the UPS delivery person to place the package in a covered area. You secure the parcel, then shut the door and go back to work.
For scenarios like these and many others, the Alarm.com app's remote monitoring and control of your home's smart devices is ideal. Alarm.com's Smart Drive makes your life simple and comfortable, whether you need to change the temperature of your house while riding the bus home from work or you left your keys inside.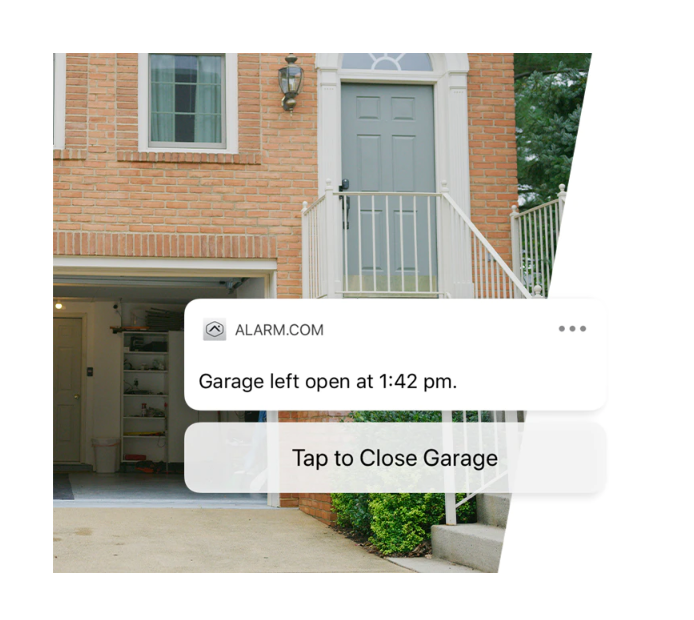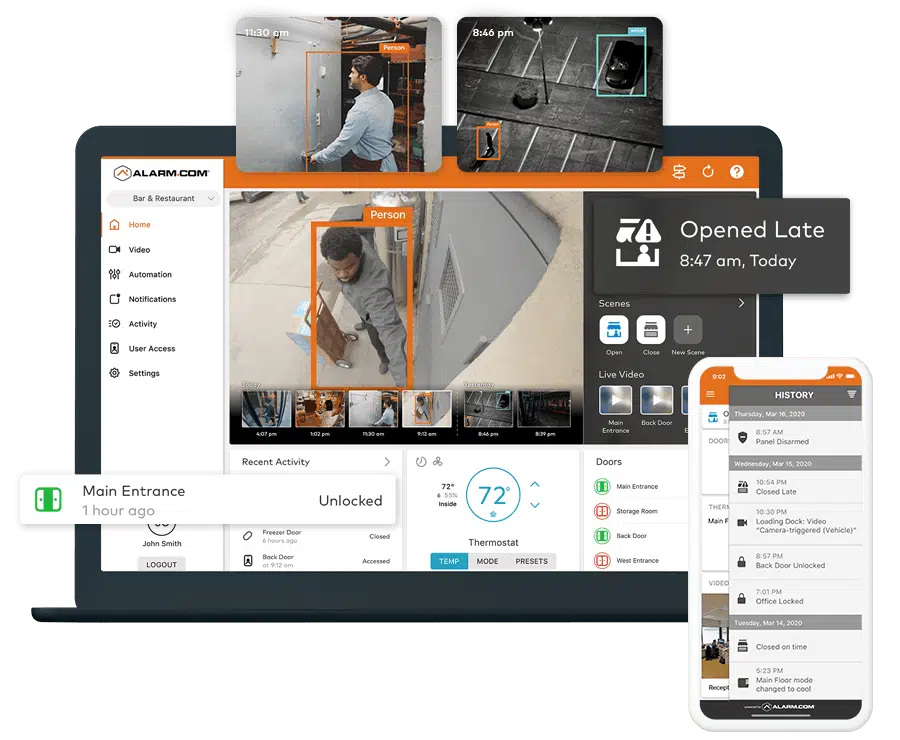 Switching to a Callaway in Canton, GA is easier than ever
Smart homes have long served as a source of inspiration for science fiction and fantasy literature. Now that they are the current "it" thing, the majority of people wouldn't dream of constructing a new home without utilizing this amazing new technology. The truth is that a smart home may provide all of its advantages without you having to move out of the place you have already made an investment in. Your life will be made as easy and secure with Callaway Security. We offer a complimentary in-person consultation so you can create the smart home of your dreams, tailoring your system to meet your family's needs.
Additionally, we will send one of our home security system professionals to your home in Canton to fully install and integrate your smart home equipment. To arrange a meeting and learn more about how incredible Callaway Security can be for you, get in touch with us right away.