5 Benefits of Switching From Analog To IP Cameras
We all see it coming… Digital is slowly taking over every aspect of analog technology, including video surveillance systems. In this context, with technology constantly moving forward, why wouldn't you consider shifting from analog security cameras to IP cameras? If you often find yourself wondering if you should change your analog cameras for IP cameras, you are not alone. In fact, one of the most common question we are asked is: "
What are the benefits of IP cameras?"
So, let's talk about the difference between IP and analog cameras and find out what it is that makes IP surveillance such a great option.
What is an IP camera?
An Internet protocol camera, or an IP camera, is a digital video camera used for surveillance that can send and receive information via a network and the Internet. The webcam is a similar concept but, unlike an IP camera or "netcam", it is not linked with other cameras or monitors. There are two types of IP cameras:
centralized, which require a central Network Video Recorder (NVR) to handle the recording;
decentralized systems, which don't require a NVR since the recording function is build-in.
Analog vs IP Technology
In a traditional analog CCTV set up, the cameras need to be linked to a Digital Video Recorder (DVR) that records, processes, and stores all the data. The DVR converts the analog signal into digital and stores it on a hard drive for later retrieval. In a Network Video Recorder (NVR), on the other hand, the analog images captured by the cameras are being converted into digital data by the camera itself. Then, the footage is streamed to the NVR who captures compresses and records the data.
5 key benefits of IP cameras
Besides IP cameras' ability to immediately convert analog images into digital data, there are other reasons you should consider this type of video surveillance. Let's take a look at five of them: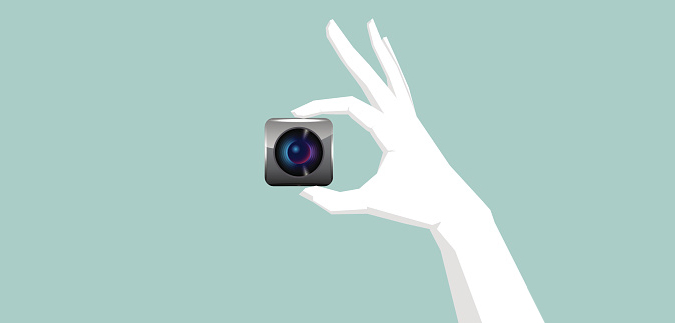 Picture quality
Think about every CSI episode you have ever seen and tell me if this scene sounds familiar. A group of detectives working on a case analyzes some video footage when one of them suddenly sees something peculiar and asks the computer guy to enhance the image. The blurry footage becomes crystal clear as the guy enhances it, helping them to catch the culprit, and solve the case. Of course, that's total nonsense since you wouldn't be able to get a crystal clear image from an analog footage. All analog video cameras use the NTSC (National Television System Committee) analog video standard, meaning a narrow range of resolutions. However, things change and it's usually for the better. In an IP camera universe, there is a large range of resolutions you can choose from, depending only on your specific requirement and not a standard regulation.
Video analytics
CCTV systems depend very much on human monitoring to catch the events in real time. If the person watching the monitors missed something or something went wrong with the cameras, they would have to reconstruct the events in order to get the facts straight. With IP cameras, you can set your network to mark events that occur in the cameras' field of vision. This way, instead of having to check hours of footage, your network will tell you exactly when something abnormal happened.
Ease of installation
There was a time when a Network Attached Storage (NAS)-based installation was a complex process that required the presence of an expert. But now, companies have developed a universal plug-and-play camera recognition, which makes NVR installations extremely simple.
Scalability
Analog security cameras must be connected directly to a DVR in order to record, process, and store the data. The problem with this is that there are a finite number of ports cameras can be plugged into. With IP cameras, this is no longer a problem, since there is no limit to the number of cameras that can be connected to a network.
Reliability
Taking into account the advantages of NVR over CCTV set ups, it's easy to see how IP cameras are faster, more reliable and more durable than analog security cameras.
The cost of opting for IP surveillance
Like most good things in life, IP surveillance comes with a cost. We're not just talking about the price, but also about cabling issues and lack of standards.
Naturally, IP cameras are more expensive than analog ones. Besides the camera, you will need a proper backup from the network system; otherwise, the usage of an IP surveillance camera becomes pointless. Another issue with IP cameras is that the cable costs will definitely be higher. IP surveillance systems need UTP cables.
IP cameras can encode the video differently or use different programming interface, which can become troublesome. A combination of camera recorder will be needed in these situations. Whether you are looking of an IP camera or for an analog security camera, at Callaway Security you can find a wide range of security solutions delivering unparalleled functionality and flexibility. Contact us and we will decide together which system is the best security solution for you.