5 Things Remote Home Security Systems Can Do (Besides Protecting Your Home)
If we were to tell you that a remote home security system can do much more than protecting your house and your valuables, what would you think?
"Maybe they're talking about ease of access and remote arming or disarming…", you might think. You are right, but there are other surprising ways a remote controlled automation system can benefit your lifestyle.
We've put together 5 things remote home security systems can do for you, besides protecting your home, of course.
First things first…
It goes without saying that remote controlled automation systems are a great option for making your home safer. It offers the possibility of easily monitoring your home from your computer or smartphone. You can check security footage, verify anything that triggers the alarm, alert the authorities in real time, and adjust the system's settings. Real time information is just a few clicks away. Furthermore, you can address potential problems before becoming an issue and increase efficiency and accuracy.
However, remote home security systems can do more than protecting your home from intruders.
Reduce energy costs
It might sound a little odd, but remote controlled automation systems, such as lighting and thermostat control or even surveillance cameras can help you reduce energy costs. By configuring your automation system with the motion sensors, your security system can detect whether or not someone is home and turn off the lights or the heating when the house is empty.
If you forgot to turn off the heater or the air conditioning, you can use your remote security system to adjust the heating and cooling system from your smartphone.
Remote arming and disarming
Picture this: you are away on holiday or traveling for business. Suddenly, you realize you don't know for sure if you armed the security system at your home or office. You will now have to call a family member or a colleague and ask them to check your security.
There's a simpler solution to this problem, without the hassle of having to ask someone to drive all the way to your home or office. With a remote controlled automation system, you can check home's security status and arm or disarm the system from your phone.
Remote arming and remote disarming will provide you the peace of knowing you can access your security system from anywhere.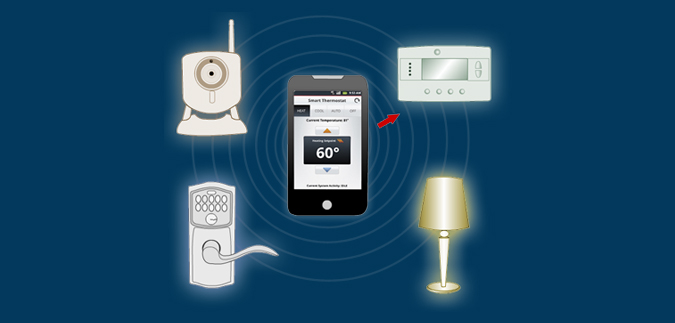 Monitor children's/personnel's actions
If you worry about the safety of your kids, remote home security systems will help you monitor their whereabouts and actions. The system can also allow you to know what time your kids arrived or left the home, by setting a different PIN number for each person.
Besides the kids, a remote home security system will help you keep an eye on pets and check on the personnel.
Save on home insurance
Home insurance companies keep track of how safe and protected your home is. A company can lower its insurance policy if you install an advanced security system, which helps you prevent home intrusion, fire, water damage, or other potential damages.
Automation
If you worry about the kids leaving the house without turning the lights off or adjusting the thermostat, you can set the remote home security system to do it automatically. Even if someone forgets to arm the alarm, the system will automatically take care of everything – locks, lights, thermostats, and surveillance cameras – when it detects no one is home anymore.
Remote Arming/Disarming – Callaway Security provides a full range of remote controlled automation systems such as lighting and thermostat control, monitoring, and surveillance cameras.
We know that investing in a security system is an important step and there is a lot to consider before choosing the right system for your home. At Callaway Security, you can find a full range of remote controlled automations systems.
Contact us and together, we will decide which system is the best security solution for you.