You might meet many people in the future, with the current housing market being so busy. Neighborhoods are constantly changing, whether you move to a new place or the house next door is being sold. 
No matter where you live, your primary goal should always be protecting your family and home. What can you contribute to make your neighborhood safer? You can discourage crime by following these tips.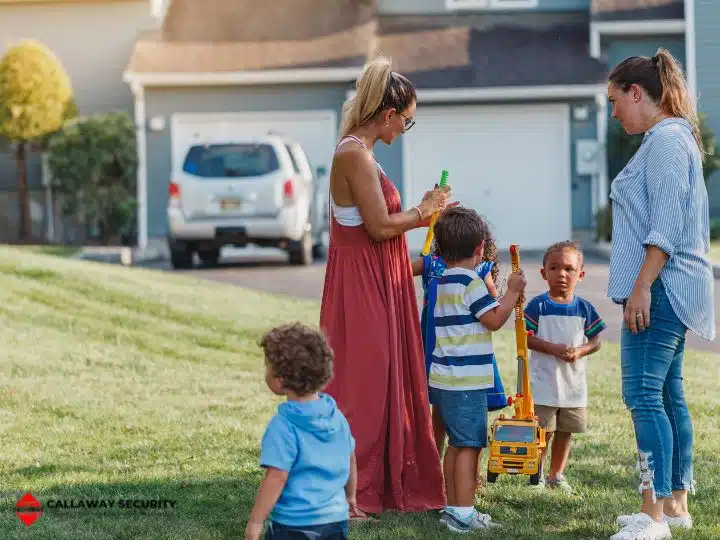 Because our lives are so hectic, it isn't easy to get to know others. Some areas are more family-oriented, with children riding bikes and playing on the lawns. This is an excellent opportunity to extend a hand and show your appreciation. Spend a few minutes to stop by and meet the people who live next to you and down the street. You can count on these people to look after your property even when you're not there. Having a list of people nearby in an emergency is also helpful. Even if your neighborhood isn't the friendliest, it doesn't mean you shouldn't meet your neighbors.
When you move to a new place, your neighbors will be the best resource for information about safety concerns. You can also discourage crime from entering your neighborhood by setting up a neighborhood watch.
Make your Home Unappealing for Burglars
A well-maintained home is appealing but unattractive to burglars. Your HOA will be happy if your trees and bushes are kept trimmed. This also helps to prevent potential intruders from hiding places. It should take only a glance at your house to see the glowing camera doorbell pointed toward the street. You may also have additional outdoor cameras placed strategically so your property is always visible. Intruders are discouraged by yard signs that announce your home security. If anyone does decide to wander through your yard at night in search of valuables, ensure that the motion-detecting spotlight is on.
Get to know your neighbors and share your knowledge about home security. Keep up-to-date with local crime news to see any patterns or trends in a home burglary.
Home Security Systems Can Make a Difference
Your neighbors will be impressed by the home security system you have installed in their homes. This is an interesting topic that can lead to your neighbors adding it to their own homes. Your home is less likely to be viewed by potential intruders if it is in a monitored area. A typical burglar will want a job that is quick and easy. The average time it takes to intrude on a house is less than ten minutes. A criminal will likely move on to something simpler if your home security looks good.
Callaway Security wants to help you avoid being a statistic in a burglary. For more information on home security systems in Atlanta, give us a call. We can also help you set up a home security system that suits your needs and lifestyle. Our goal is to protect you and your family as best we can. There is no reason to limit your options regarding securing your home. Contact us to learn more about the options, and get in touch with us!