If you rent your safety and peace of mind depend on security systems.
When it comes to a break-in, fire, or other calamity, property ownership is irrelevant. Security systems are just as important for renters as for homeowners, and you should take every precaution to safeguard your house, possessions, and life.
The finest method of defense is to spend money on a high-quality security system. A high-quality security system leaves you with peace of mind for everyone who calls the property home and acts as a deterrent for burglars with nefarious intentions.
In this blog, we'll examine the home security equipment that works best for our Atlanta customers renting homes, such as:
Exterior video surveillance
Indoor video cameras
Doorbell cameras
Glass break sensors
Window and door sensors
Motion sensors
24/7 monitoring
We take great pride in being the most trusted security provider in Atlanta. Our clients look to us for more than just property protection. They are used to receiving the greatest technology available in the industry and friendly professional advice.
Call us at (770) 395-9692 to receive a free estimate and to begin designing your personal home security system in Atlanta.
Exterior Video Surveillance
You can capture everything that occurs around your home in real time with exterior video surveillance. You can study camera footage and even use it as proof if a worrying event occurs while you are away from home. Many times, criminals may hunt for another home to rob simply by being aware of an outdoor camera system.
You are susceptible to break-ins and other crimes whether you rent or own your property because of weak points. Renters can't always make those decisions, but you can strengthen those points by changing the locks and even upgrading to a more durable door. You can feel secure knowing that certain places are well protected by installing a doorbell camera or other high-quality surveillance cameras.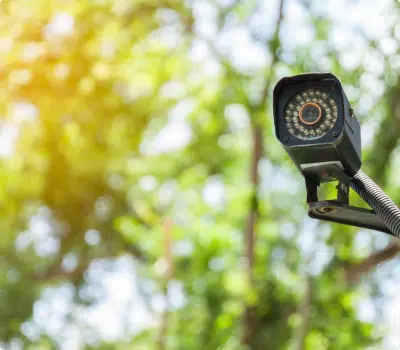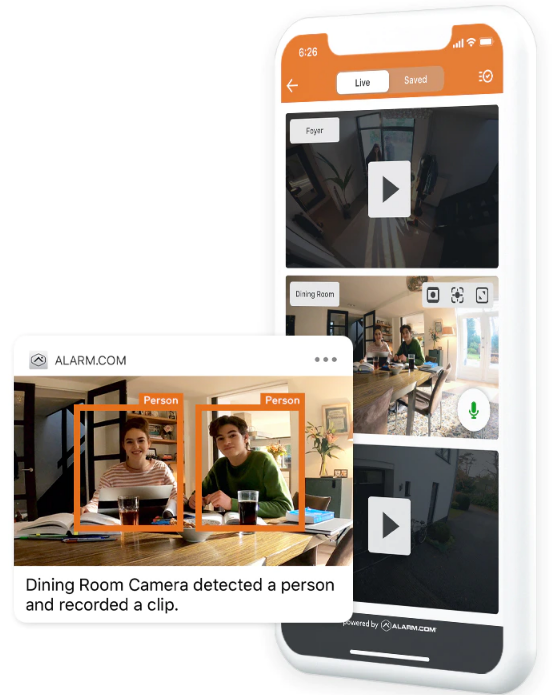 Your home and business can now have security systems thanks to mobile phones and wireless technology. When you get home at the end of the day, don't waste your time wondering what happens behind the scenes. With the touch of a finger, Callaway Security systems give you a look into the safety of your livelihood around-the-clock. With the ability to access real-time video remotely while you go about your day, our cutting-edge security camera system is compatible with cellphones, iPhones, tablets, PCs, and Mac computers.
Renters are able to monitor their loved ones and possessions thanks to indoor video cameras.
A system of indoor video cameras allows you to constantly monitor the interior of your home. With the capacity to go back and observe what happened in the past, you will have access to real-time film of everything that is happening right now.
You might want inside cameras, just like homeowners, to observe school-age kids coming home while you're at work or to keep an eye on a nanny or babysitter with a smaller child. Modern camera systems enable you to interact with residents of your home in real time, assuring their safety, comfort, and well-being.
Nonstop power for constant serenity. Our wired doorbells combine everyday practicality with top performance. They are small and simple to install yourself. 
Even if the visitor doesn't ring the bell, SkyBell will let you know when they are at the door. You can see everything that is happening in front of you in wonderfully clear 1080p HD because to the extremely broad field of vision. Additionally, it is made to function with doorbells on practically any kind of house.
You are free to live your life without worrying about your house while you are gone or feeling afraid when someone rings the doorbell thanks to the SkyBell HD WiFi doorbell. No more missing essential items or interruptions during family dinners. The "smart" home security doorbell that fits into your life is called SkyBell HD.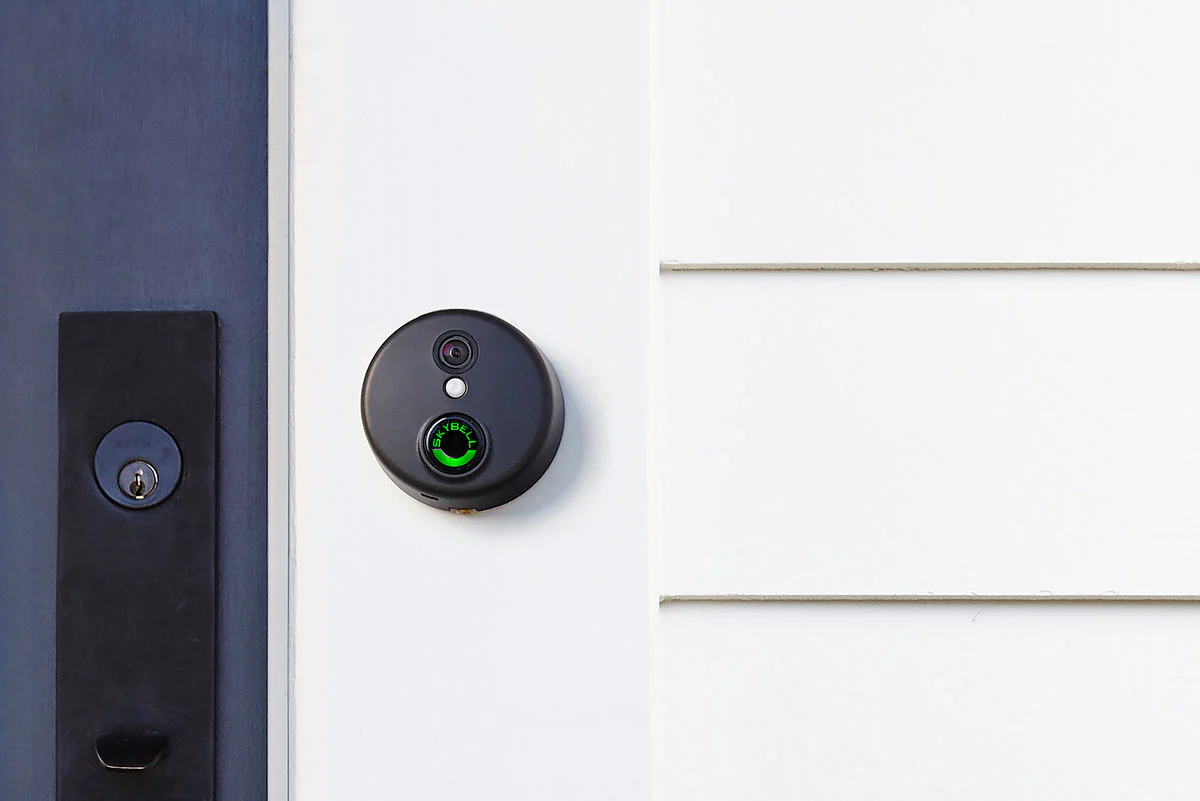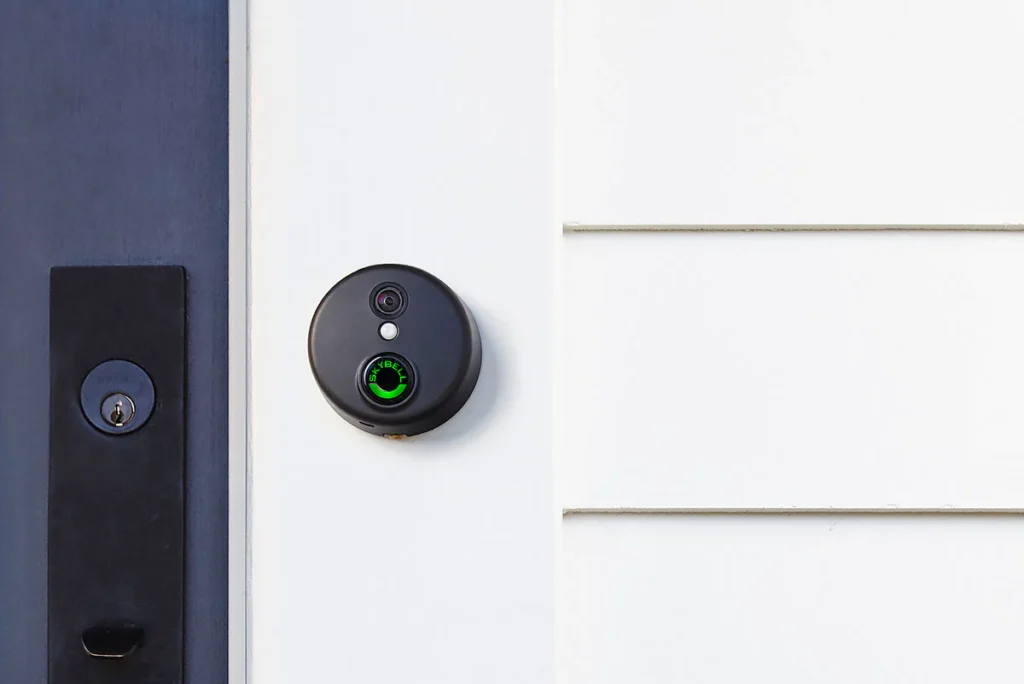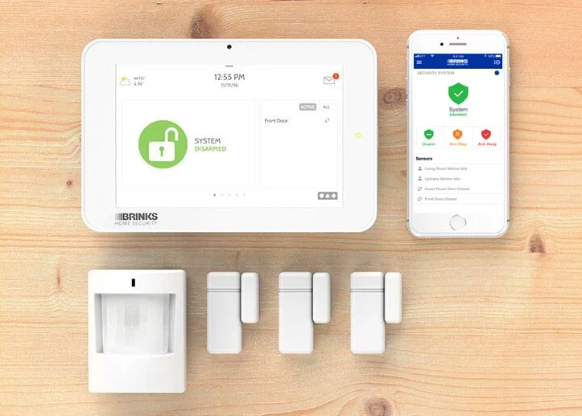 Motion detectors combined with outdoor lights provide for effective burglar deterrents for residential properties, commercial buildings, and rental properties. Outdoor floodlights turn on when motion is detected, illuminating the area around a house or other structure.
If a burglar enters a building indoors without being seen, indoor motion detectors add an added layer of security. Many house and company owners decide to put motion detectors in their residences or commercial structures in addition to front door cameras for this extra security.
The most well-liked passive infrared motion detector from Callaway Security is a steady motion sensor with digital signal processing and automated temperature adaptation. This offers good false alarm immunity and great capture detection. We also provide selectable pet-resistant motion detectors.
Home security sensors, when armed, will notify you if a door or window is opened. Callaway Security, Atlanta's most trusted home security firm, can install sensors all throughout your house. They're one of the least visible ways to add a security system to any home and are simple to remove when you leave the rental.
When the windows of their child's bedroom are equipped with security sensors, many parents feel more comfortable. A back, side, or garage door that is frequently shrouded in darkness because there isn't much exterior lighting may also need to be protected. Burglars adore isolated, dark spaces where they can easily miss their neighbors or the street. Those are the places that require the most defense.
Sensors are something to think about if you want to keep your Atlanta home security system straightforward and reasonably priced. They provide some defense on their own but work best when paired with motion detectors and cameras.
Motion sensors, when the system is armed, notify the alarm system when they detect motion.
Motion sensors are used in conjunction with external surveillance systems to record any activity near your property. If the area around your home is quiet, you might want to install outdoor lighting that never turns on. The lights turn on and the camera begins recording as soon as motion is detected near the camera within a predetermined range.
When the lights flash on, anyone attempting to break into your property will be alerted that you have a security system. They might even move to a less safe home if they see the camera and decide they don't want to be on the show.
Compared to lighting systems that remain on all night, motion sensors can help you save money. Your outdoor lights can turn off when it's not needed thanks to motion sensors. The automatic lighting will come in handy when you are moving around your own property at night.

When needed, several home security systems offer protection. A doorbell camera, for instance, might only start recording when someone enters your porch. Prior to detecting motion, motion sensors are inactive. Many of these home security systems serve as deterrents and give video documentation of events for post-event analysis. If someone does choose to break into your house or take something from outside, they don't immediately call the police.
Because of this, many tenants and homeowners in Atlanta, Georgia, choose round-the-clock live monitoring. Not only will you have someone to notify the police if a criminal enters your property, but you'll also have continuous fire protection. Reputable Atlanta security experts like Callaway Security can also protect your property from flood damage and medical situations, making your monitoring system flexible.
If your house currently has some security measures in place but you still want to feel more secure, it might be time to upgrade to full monitoring by reputable experts. Callaway Security is Georgia's most dependable home security system thanks to its more than 50 years of expertise and commitment to maintaining the safety of the Atlanta region. We only use highly skilled, seasoned security technicians and provide cutting-edge equipment.
Callaway Security's home security systems can help you feel secure right away. Take advantage of our FREE home security estimates. Any form of home security system, including 24/7 monitoring to ensure that authorities are notified of trouble in real-time, can be installed by us to keep your loved ones and possessions secure.
Call us at (770) 395-9692 when you're ready to find out more, or make an appointment online right now.