So, Is It Secure? Read This Before You Buy Remote Door Locks
Maybe this sounds familiar to you: you are in a hurry, the taxi is waiting outside, everybody is already downstairs, but you simply can't find your keys. Or it's raining and your hands are full with groceries and you fumble with your keys, trying to open the front door.
If anything like this has happened to you, maybe it's time to consider a remote door lock. Do you really need one? And if you do, how secure is it?
Read and find out the questions to these questions.
What is a remote door lock and why should I buy one?
Welcome to the future, where doors are keyless and they can be unlocked with your smartphone.
As the name suggests it, remote door locks are keyless systems which can be opened from a reasonably long distance, using a remote control device. This is a fairly common system used to control cars and garage doors.
Remote controlled locks can be programmed to lock the doors for you at set times during the day. Extremely convenient, this device can be altered to work on cars and garage doors as well.
Most remote door locks come with an app you can install on your smartphone, which will tell you if any door was left unlocked and will allow you to lock it from almost anywhere. Furthermore, in case of emergencies, you can unlock the doors from a distance, allowing firemen or police personnel to enter your home.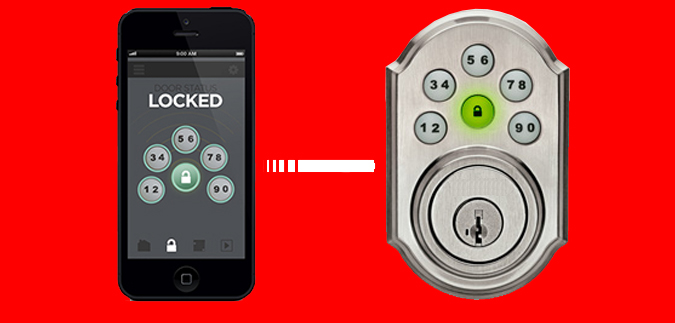 Just how secure is a remote door lock?
Using remote controlled door locks surely has its advantages, like being able to control who enters your property and when, from a distance. But are they safe?
Most intelligent locks use a security protocol similar to online banking. If you use your smartphone to control the lock, the signal send to the locks is encrypted in a 128-bit AES encryption.
Compared with traditional keys, a remote door lock is arguably more secure, since they can't be copied. Furthermore, you can control who and when has access to your home and you can see when someone entered or exited the house, remotely from your smartphone.
The benefits of remote door locks
Besides improving your home security, a remote control door lock can provide you with peace of mind. You won't have to worry about losing your keys ever again and you have complete control over who enters your property.
With remote controlled door locks, you can stop worrying about losing your keys. You can also forget about the need to hide a spare key around the home for emergencies.
Remote door locks are easy to install and can be used by anyone. Sturdy and durable, they will last for years to come, protecting your house all year round.
Remote access to your house
A remote controlled door lock gives you the freedom to control your locks from almost anywhere, as long as you have an Internet connection.
At Callaway Security, you can find a large range of remote control door locks. Check out our options and choose the one that fits your needs best.
If you have any questions, don't hesitate to contact us.